News
Trade-Mark helping Mazda Toyota Manufacturing project stay on track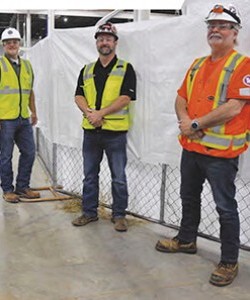 Trade-Mark Industrial (TMI) millwrights, as part of the Southern States Millwright Regional Council (SSMRC), are playing a key role in the construction of the new $1.6 billion, 3.7 million sq. ft. Mazda Toyota Manufacturing plant in Huntsville, Alabama. At the height of the project, millwrights will provide approximately 35% of the job site's total manpower, with 700 to 1,000 employed. TMI has been involved in the installation of all processing equipment in the plant, including conveyor systems that haul vehicles through miles of assembly lines and robots to paint and weld together body panels.
Calder Manley, a Local 1192 member, said he and his colleagues have been doing robot layout and installation and conveyor work since January of this year, with expectations to do more of the same going forward. "A whole lot more work needs to be done," said Manley. "There are other buildings that haven't got anything in them yet."
The millwrights' first task is to determine the layout of robots or equipment in the open areas of the plant. By ensuring precise measurements from the beginning, millwrights make certain that all equipment will be installed accurately. "We've been doing really well," says Manley. Al Bolton, project manager for TMI, backs that sentiment. "I would put these millwrights against anybody I ever worked with."
Trade-Mark Industrial is responsible for installation of all process equipment in the Toyota portion of the welding shop. SSMRC millwrights working with TMI assist with unloading, uncrating, and placing robotic welding cells to be used in the sub-assembly and major body assembly lines for a Toyota SUV. Bolton says SSMRC millwrights are extremely well-trained, safe workers who have further enhanced TMI's relationship with Toyota.
In spite of a number of challenges throughout, including several weeks of rain in the spring, TMI began their work on schedule to maintain the construction timeline set by Toyota, and have adapted and responded quickly to potential setbacks to stay on target. TMI millwrights have also done their part to keep the job on track. "Their attendance has been excellent, and their attitudes have been excellent," said Bolton. "Because of the excellent productivity out of people here, we've maintained schedule. That means we're doing extremely well."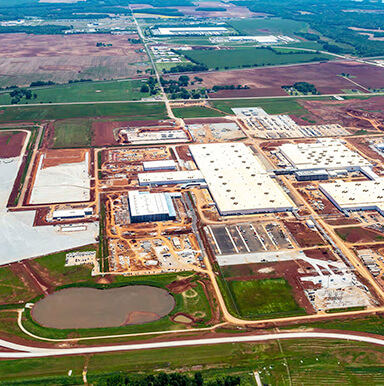 COVID-19 has contributed to additional timeline hurdles, including shipping delays of equipment coming from China. TMI addresses COVID-19 safety in their daily safety talks, and all employees reporting to work must answer a COVID-19-related questionnaire, and anyone with symptoms is required to leave the site for testing. "The millwrights and Trade-Mark have set the standard for this plant and shown that even with the challenges of COVID-19, work can be completed safely and efficiently," said Bolton.
Clint Smith, business manager for Millwright Local 1192, and Bolton noted that the Mazda Toyota Manufacturing plant will provide millwright work opportunities even after construction ends in 2021. Maintenance will be ongoing, and model changes every few years will necessitate millwright skills. "A plant like this creates opportunities for union trades for generations of work," said Bolton.
Bolton also confirmed that all millwright activities have gone smoothly and information from Mazda Toyota Manufacturing has facilitated workflow. "Millwrights are showing the client it made the right choice going with union trades for this job. The client continues to compliment millwrights on this project, and they should be really proud of themselves."
Monty Hagstrom, senior manager of production engineering for Toyota Motor North America, adds, "there have been great rewards, many construction milestones met, and opportunities to collaborate with our business partners to help us complete construction and reach start of production. Mazda Toyota Manufacturing has a strong relationship with the Southern States Millwrights on this project, with good communication and collaboration. We appreciate the continued support of the millwrights to make this project successful."
Read the article on The Millwright Magazine
Images courtesy of The Millwright Magazine