News
Trade-Mark Approved as EASA Accredited Service Center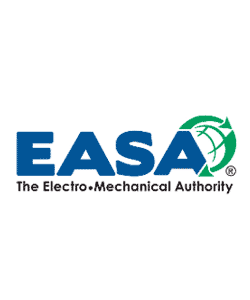 EASA Accreditation of Trade-Mark Industrial means that the firm has successfully demonstrated that it follows the prescribed good practices to consistently deliver quality electromechanical repairs that maintain or improve AC electric motor efficiency and reliability.
"This achievement by Trade-Mark Industrial affirms the company's commitment to excellence," said Linda J. Raynes, CAE, EASA president & CEO. "EASA's Accreditation Program offers external validation that the company adheres to good practices by submitting to an independent, third-party audit."
The criteria for becoming EASA Accredited are based on ANSI/EASA AR100: Recommended Practice for the Repair of Rotating Electrical Apparatus and The Good Practice Guide of The Effect of Repair/Rewinding on Motor Efficiency.
EASA is The Electro•Mechanical Authority; an international trade organization consisting of more than 1,800 electromechanical sales and service firms in 70 countries. EASA member companies provide repair, service and sales for the operation and maintenance of electric motors, generators, drives, controls, pumps and other electromechanical equipment. The Association provides members with direct technical support, the industry repair standard (ANSI/EASA AR100) and education, as well as technical, management and safety-related reference materials.
For more information contact:
Tom May
+1 519 650 8790
[email protected]