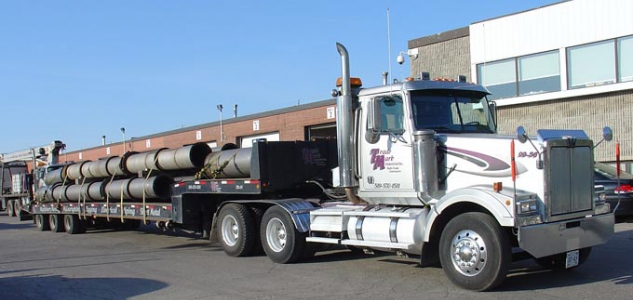 Company Info
Since 1998, Trade-Mark Industrial Inc. has been a multi-trade contractor specializing in millwrighting, rigging, electrical, piping, sheet metal & HVAC installations and repairs solutions. We focus primarily on Southwestern Ontario market but have the resources and capabilities to provide services across Ontario, Canada and the United States as required.
Trade-Mark Industrial Inc. adds many years of technical knowledge and experience to the installations, relocations and any repairs or maintenance that your plant or facility requires. We employ only experienced, certified tradesmen for our sites and have an ample supply of good, safe and well maintained equipment, as you would expect from any professional contractor.
We currently have over 500 certified tradesmen with a fleet of over 200 equipped service vehicles. Our facility is centrally located in Cambridge, consisting of 365,000 square feet of building and 25 acres of yard; including an in-house sheet metal fabrication shop, a custom miscellaneous metals fabrication shop, a pipe fabrication shop, an equipment assembly shop, an electric motor rewind & sales shop, a custom machine shop, a tool & equipment shop, and an in-house vehicle repair shop.
Trade-Mark Industrial Inc. is committed to doing business using an honest, professional and competitive approach without compromising safety or schedules.
We look forward to working with you on any future project of any size…from large to small in scope. Please call if you require our tradesmen rates or would like a quotation on any upcoming work.
Trade-Mark History
Trade-Mark is a multi-trade contractor founded in 1998 and focused on servicing our Industrial, Commercial and Institutional Customers in the Southern Ontario market place.
It is Trade-Mark's good fortune to have a large number of technically experienced, friendly and dedicated personnel in its employ. Trade-Mark has also accumulated a large selection of safe and well maintained tools and equipment to compliment its trades groups.
Trade-Mark Growth
1998
We began by servicing our customers with the Millwrighting, Rigging, Electrical and Piping trades.
1999
We added Custom Fabrication, Transportation and Boom Truck services to our trade groups.
2000
Electric Motor Sales & Service Shop, Servo Motor Repair Shop, Machine Shop and our Equipment Rental service were added.
2001
We added Sheet Metal & HVAC services and a Sheet Metal Fabrication Shop to round out our trade groups.
2009
We added an office in Frankfort, KY and began self performing USA projects.
2012
We added BIM, scanning and 3D modeling to our list of services.
2013
Added traffic signal & street light construction and maintenance through TM3 Inc. and United Electric
2014

August - Trade-Mark Industrial Announces Expansion and Relocation Plans
• Press Release
• Article in Exchange Magazine
• Article in The Record

October - Trade-Mark Industrial on the Move to Much Larger Home
• Article in The Record

Fall - Trade-Mark Industrial moves under one roof
• GVCA Journal




2015

May - Trade-Mark celebrates its new 365,000 sq. ft. headquarters in Cambridge with an Open House event attended by more than 900 customers and industry partners.
• Press Release

July – Get an inside look at Trade-Mark Industrial, a thriving family business experiencing a 17-year growth spurt.
• Article in Exchange Magazine (pg. 18)
Trade-Mark is well positioned to deliver its commitment to customer satisfaction, complete trade coverage and continual improvement as we move into the future.
Our experienced people at Trade-Mark understand the importance of customer satisfaction and quality workmanship. The team approach developed at Trade-Mark is imperative to the successful and safe completion of any service or project work.
It is the vision of the Trade-Mark team to experience natural and positive growth well into the future. This natural growth will be a direct result of our customer's response to our desire and ability to service them well.