News
Musical swings in Uptown Waterloo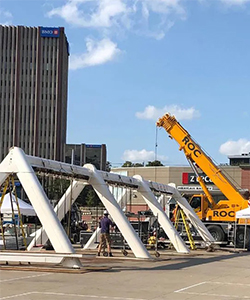 The City of Waterloo contracts Trade-Mark Industrial for various jobs and events, but this is the first time workers have installed musical swings.
The creation by Montreal's Daily tous les jours, that's part of the city's annual Lumen light, art and tech festival, required a crane to place support structures in Waterloo Public Square on Wednesday, Sept. 14, where it will remain until Oct. 19, allowing people the opportunity to make music together. Each swing combines to make different notes and melodies through co-operation.
JUST THE FACTS
The Musical Swings is one of three art installation going on display this week leading up to Lumen on Saturday evening, Sept. 24.
The Anglerfish by Toronto's Ryon Jones will be at the entrance to the Waterloo Park Promenade (Canadian Clay and Glass Gallery) and Austria & Canada: a unique bond, a partnership between Canadian and Austrian embassies celebrating long-standing diplomacy, will be on display at the Visitor and Heritage Information Centre.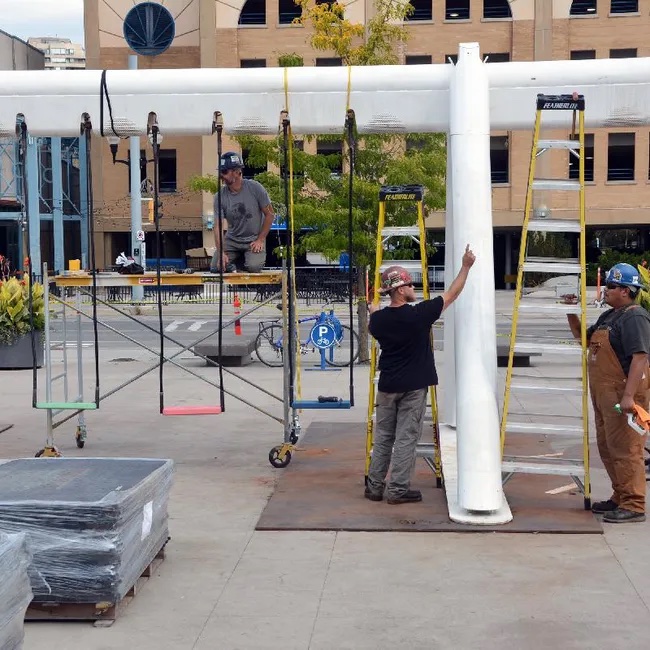 Lumen, Sept. 24, from 6 to 11 p.m., will feature 35 installations and more than 50 artists from all over the world according to Sonya Poweska, a culture program specialist with the city.
"The idea is that we're taking back municipal spaces" after a stay-at-home version of the festival in 2020 and a scaled-back version in 2021, Poweska told the Chronicle.
"We have a techno bunker in the underground parking at Waterloo City Hall. We have a monster going in at the grist mill and little accents of something everywhere, programming laneways, corners, barns, parking garages and city hall. We want people to see uptown in a way that is empowering."
With the help of funders and sponsors, Poweska noted that the artists, who've been working on their pieces throughout the pandemic, are paid for their work.
"It's about providing artists the opportunity to exhibit their work in the community where they live and also to bring in other artists for a community-wide exchange," she said.
Read the article here.