News
One of the Largest Industrial Lighting Retro-fit is a First for Cambridge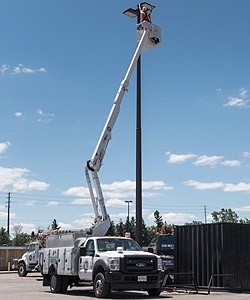 Cambridge, ON – January 20, 2017 – Trade-Mark Industrial
Through the Independent Electricity System Operator's Save on Energy retrofit program local utility Energy+ Inc. presented Trade-Mark Industrial with a $122,000 incentive cheque on January 17th, 2017 for a full LED lighting retrofit of their industrial facility in Cambridge.
Installation was started in January 2016 and completed by March of that year. The retrofit included the replacement of every light in the entire facility both inside and outside with LED. In addition to lighting, the project also included occupancy sensors for further hydro cost reduction. LED lighting was supplied by Graybar in Kitchener and installation was conducted by Trade-Mark Industrial.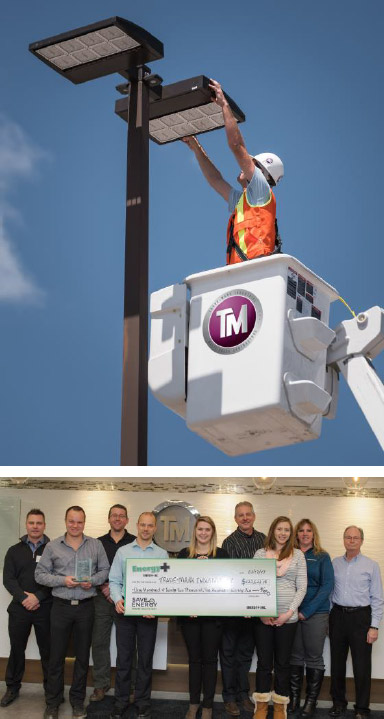 "The lighting retrofit took place at our 365,000 square foot, 33 acre facility in Cambridge. This project is one of the largest of its kind in the city," noted Thomas Straus, Vice President, Millwrighting & Rigging at Trade-Mark Industrial. "It's another example of how we strive to lead the way in everything we do. We're particularly proud of this project and are pleased to report that while the retrofit to LED was estimated to save $136,000 of hydro annually, actual savings were $176,000."
The nearly one million dollar cost of the project reduced the 2,987 fixtures in the facility by 909 and increased the average foot candles from 18 to 35. Over the 16-year lifetime of the LED fixtures, it was estimated that a total of $480,000 would be saved in maintenance costs. Instead, the retrofit has already realized a higher than expected saving of $35,000 in first year maintenance costs.
Trade-Mark Industrial Inc. is a multi-trade contractor specializing in millwrighting and rigging, electrical, piping, fabrication, structural, sheet metal and HVAC installations, custom machine shop needs, motor rewind, and repairs for the industrial, commercial, and institutional sectors. Located in Cambridge, Ontario, the family-owned, multi-company business also includes TM3 Inc. (offices in Toronto, Cambridge, and London) specializing in street lights and traffic signals, United Electric an electrical firm from Guelph, and ROC Corp (yards in Toronto, Hamilton, Cambridge, and London) providing mobile crane and boom truck rentals. They also have Trade-Mark Industrial LLC (offices in Kentucky, Indiana, Mississippi, and Texas) to provide their U.S. clients with multi-trade contactor services.